CAT Verbal150 frequently repeated questions
Download here – right click>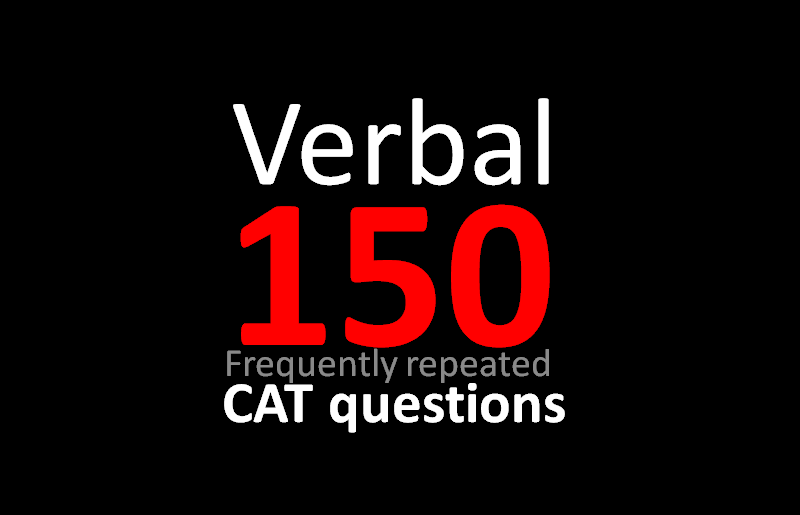 01 Reading Comprehension RC pdf
02 Paragraphs PC PJ Summary pdf
03 Critical Reasoning Grammar pdf
04 Vocab based CAT Verbal150 frequently repeated questions pdf
Solutions Verbal150 frequently repeated questions pdf
---
How I cracked CAT Verbal Section – Must Read!!
Once you have a sound base it's good but not enough to crack the exams as basic is not what's tested in the exams. Second phase is now more about practice. And I did three things:
A. Reading Comprehension
B. ParaJumbles Completion
C. Fill in the blanks
D. Sentence correction
Reading Comprehension
Again back to reading reading reading..
One you are done with the basics ie habit of reading move to going through RC passages everyday instead of relying on newspaper. I used to solve daily 2 passages during my travel time to office or at office hours. I practiced upto the level that I could predict what kind of questions should be asked from this passage. It will take around 1 month time to reach that level. Read RC like a mechanical structure of paragraphs rather than getting emotionally involved in the words.
ParaJumbles and completion
I liked cetking approach of dividing questions into types like in maths. we have 10 formulas within a chapter similarly parajumbles can be divided into 8 to 10 type of questions which are coming in exams. I solved around 100 questions from each section from basic to advance level to gain confidence and get ready with my list of "type of questions"
Vocab usage and Fill in the blanks
Once u have mastered vocab you don't need to worry about fill in the blanks just practice around 50 questions and you are ready to face the exam questions. Solve both fill in the blanks and Vocab usage questions.
Sentence correction
Doing grammar and sentence correction again from your coaching classes notes are enough to crack it. There are only few types of commonly repeated questions which you need to practice.
1. Nouns and pronouns
2. Subject verb agreement
3. Parallelism
4. Tenses
Are few commonly repeated topics in every competitive exam. So make your list of commonly repeated questions which will help you solve sentence correction questions in the exam.
Everybody reads these books (coaching notes, SC grail etc etc) but i feel no one understands the underlying tricks of how to identify and solve them by hit and trial. I still don't understand them after scoring 99%ile but i surely mechanically solve them using set techniques and i was able to see improvement.
I got 6 IIM calls but unfortunately my good percentile was not enough for me. My dad got ill and i got distracted. Couldn't crack the gdpi cuz of my speaking skills but made it to other top ten colleges.
Lastly Verbal is not only about skills but also the approach to deal with the beast. All the best.
Vikram Kumar
CAT 99.2%ile, Verbal 99.1%ile