MSc Finance 2017 question paper by Cetking
< Download here
GK full current affairs pdf 2017 and 2016
< Download here Join dedicated MSc finance whatsapp group
https://chat.whatsapp.com/55Dm9WBQXIr89qcVCnkCwY
Old weightage of JBIMS MSc finance for reference only.

Now that we know the break up, let me explain the technicalities involved in the above table.
| | |
| --- | --- |
| Weightage | Out of 100 |
| CAT CET Scores | 36.0% |
| PAR Xth Xth | 9.0% |
| Extra currics/ Workex | 12.0% |
| Diversity | 3.0% |
| Group Activity | 8.0% |
| Personal Interview | 24.0% |
| WAT | 8.0% |
36% of the total weightage is given to the written exam ie students below 99%ile very hard to convert Only 40% weightage is given to the GD-interview stage with main being Personal Interview. Very less importance is given to academic performance and work ex. Download weekly homework sheet with important topics.
MSC finance planning sheet
JBIMS MSc finance
Cetking launches JBIMS programs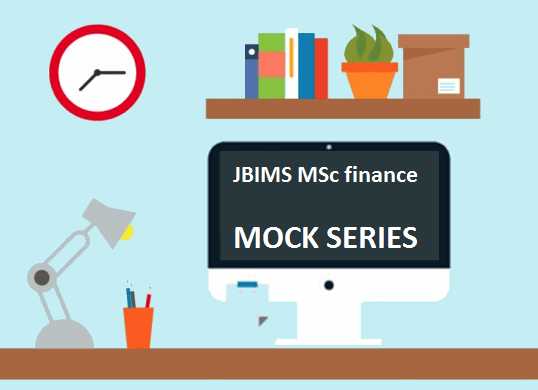 1. MSc turbo program - in class 5000/-
2. MSc turbo program – Shortcuts + Mocks + GDPI training in class and online – click here 3. MSc online mock series – click here
To join call Thane – 09930028086 | Vashi – 09820377380 | Dadar – 09167917984
Vile Parle – 09833579791 | Online – 09594441448
Increase your score by 10 marks in MSc finance – Strategy Video
---
10 things to know about JBIMS MSc finance
1. Program Two years full time course comprising of foundation course and four semesters which is more enriching than mba finance program and follows cfa level curriculum. Cetking considers msc finance program at par with jbims mba finance. 2. Eligibility Candidate should be a graduate in any faculty having scored a minimum of Fifty percent of marks and should have opted for Mathematics at higher secondary level at least at the first year of the degree course. 3. Number of seats 30 With only 30 seats placements will never be a problem at JBIMS. Anyone in india can apply for open seats (15 seats) no oms or outside students criteria. However the reservation criteria shall be as per Government norms ie only for Maharashtra students. Example Delhi based student can apply for only open seats. 4. Entrance test JBIMS is not accepting any cat cet scores so everyone has equal opportunity to crack the exam. In fact the competition is quite low as admission season is almost over and most of the students have taken admission some where. The eligibility test will comprise of an objective written paper. The test will be based on General Awareness 25 questions Quantitative Ability 25 questions Logical Reasoning 25 questions and Language skills 25 question Two hours paper with 1/4 negative marking. Level of difficult average like CET and NMAT. 5. GDPI stage Every student who sits for the exam will be invited for gdpi. Which will comprise of short interview and case study discussion. Exam and gdpi has to be taken in the college itself so outstation students need to come for 2 3 days. Jbims has written test and gdpi back to back so won't give u enough time to prepare for case studies. Case studies is different from GD.. everyone is going to fight and argue like a GD as most of the students forget that it's a case study discussion not generic group discussion. You should know and master all 4 types of cases. A. HR case… employee resigned how to stop B. Sales case… sales falling how to stop C. Strategy case… MNC want to expand into india make an extension strategy D. Generic case… discuss steps to reduce pollution in a city.. All case studies revolve around these 4 types of cases.. Cetking students should see all 6 workshop on case studies in your login id to get comfortable in approaching case study… see all online videos and make notes. Remember to draw fish bone diagram or Porters model during GD. 6. Application form Form can be downloaded on jbims website jbims.edu or from the college between 11.00 a.m. to 04.00 p.m. on payment of Rs.1500/- (inclusive of Admission Process) from 2nd May, 2016 to 14th June, 2016 on all working days (except 2nd & 4th Monday).The candidate is required to pay Rs. 1500/- at the time of submission of dully filled form, towards fee admission process. The above fee may be paid in cash or by demand draft in favour of "Director,JBIMS" payable at Mumbai. 7. Placements With jbims brand name placements should not be worried especially in finance sector. Loads of companies are coming common for msc finance and mba finance. Banks are giving equal weightage to msc finance program now. 8. How to study and study material Cetking has launched shortcut workshops and mock series for MSc finance program. Detail of the online program is available courses.cetking.com And classroom program or books available at cetking centres Thane 09930028086 Dadar 09167917984 Vileparle 09833579791 Vashi 09820377380 Online 09594441448 9. PI skills There were 10 types of questions on which interviews revolved at jbims last year: Introduction Why mba Why marketing finance hr Profile based (workex related questions or extra currics based if fresher) Technical questions (do prepare atleast one subject) Hobbies and interests Strengths Weaknesses Goals in life Idol in life Current affairs (last one month) In cetking login id there is a dedicated video on each of these most important questions please make your answers according to them. So don't leave any stone unturned.. PI is make or break round. 10. Weightage of Written Test and GDPI. It's not clear yet but mostly they will follow what they did last year. LastÂ
year JBIMS took CET and CAT scores so following table will help in knowing the weight age of each section. Just replace cet cat with their own exam. Written test weightage only 36%. Personal interview 30%.

all the best.
---
All about JBIMS MSc finance program
Faking news: JBIMS to discontinue MSc finance program – 01 march 2016
This article is written to stop rumours spreading on social media about jbims stopping msc finance program.Â
Stay calm it's a fake news jbims will continue its rookie msc finance program. Admission process is always late and quick.
It not getting discontinued, infact now it has seasoned into a great program if you have interested in finance. Excellent summer placements is a testimonial for that. It's not clear yet if they will be taking their own exam or will accept cat or cet scores. Our students in the college suggested that they might conduct their own exam in the month of may but notification will come in early may only. So cetking guess: 1. Own exam 3rd week of may followed by gdpi. 2. Accepting cet cat scores with cutoff of 90 or 95%ile profile based calls for gdpi Give it couple of more years this program will overtake mba finance as mba finance students are hardly taught finance. In mba first 2 sem are common and students study core finance only in the 3rd sem however at mba finance with curriculum like CFA is talking finance from day 1. ———————-
JBIMS MSc Finance cut off
Most probably JBIMS MSc finance will be conducting their own exam which contains written test, GD, Personal Interview and Written ability test. Last year JBIMS took CET and CAT scores so following table will help in knowing the weight age of each section.

.
JBIMS MSc Finance workshop
Paid online program http://courses.cetking.com/index.php/products/shopcart/bundle/22
____________________________ All about JBIMS MSc Finance program
Cetking Workshops
Cetking launches workshop for MSc finance from JBIMS. One month workshop with training for written test and gdpi Thane, Vashi, Dadar, VileParle and Online (for out station students). Call to join or more info Thane – 09930028086 Vashi – 09820377380 Dadar – 09167917984 Vile Parle – 09833579791 Online – 09920290309
Who should apply
This program is new and with the fact that seats are only 30 in finance, this program will be No. 1 program in finance in coming years. Candidate should be a graduate in any faculty having scored a minimum of fifty per cent of marks; and should have opted for Mathematics at the higher secondary level or at least at the first year of the degree course. Candidates who are appearing for the final examinations may also be permitted to apply, but, their admission, if otherwise selected, will be confirmed only after he/ she satisfies the eligibility criteria mentioned above.
Entrance test
JBIMS Msc finance will mostly be taking their own Entrance test. Test will be cover Quantitative Ability, Logical Reasoning, Verbal Reasoning, Data Interpretation and Visual Reasoning. The eligibility test will comprise of an objective type written paper. Candidates will be called for a personal interview and/ or group discussion. The test will be based on General Awareness, Quantitative Ability, Logical Reasoning and Language Skills. Date of Entrance Examination:
May Mid (tentative)
Time of Examination: 3 hours Date of Group Discussion and Personal Interview: June first week batch wise. Result will be put on around June End on the institute notice board. Venue: Jamnalal Bajaj Institute of Management Studies, 164, Backbay Reclamation, H. T. Parekh Road, Churchgate, Mumbai-400020 Fees: Rs. 1,00,000 per year. Brochures and Application forms will be available at the Accounts Office of the Institute on payment of around Rs. 1200/- (inclusive of Admission Process) Last Date of Acceptance of Application form – Mid May 2015
MSc Program from JBIMS
University of Mumbai is starting Two Years Post Graduate degree program: Master in Science in Finance (MSc Finance) at Jamnalal Bajaj Institute of Management Studies. The objective of the course is to create the skilled personnel for Finance industry as Mumbai is fast emerging as an International Financial Centre. This is creating opportunity for a large number of finance professionals having internationally benchmarked skills and capabilities in new product development, financial risk management, behavioural finance, asset management, banking and non-banking financial institutions management and financial regulations etc. The proposed MSc Finance course will help to create a pool of trained and globally competitive finance professionals. Duration: Two years full time course comprising of foundation course and four semesters.
MBA Finance Vs MSc Finance
Many people who want to proceed to graduate studies related to business contemplate whether to get a Master of Finance Versus MBA degree. Choosing which of these programs best suits them can be challenging because both programs offer intensive study and high-paying career opportunities in the future. Both degrees can prepare students to handle positions at the administrative level in business and finance industries. The major difference between these programs is that the MBA equips students with broader skills and knowledge in business and helps graduates apply them in many different areas. On the other hand, Master of Finance programs are more finance-specific. The individual's career goals should determine which program to choose. Details About Master of Finance Versus MBA Degree Programs MBA programs offer courses like economics, accounting, statistics, organizational processes and communications. Meanwhile, the Master of Finance puts emphasis on accounting and management. Top ranking schools that offer MBA programs are Harvard University and Stanford University. Recently, more universities have begun to offer Master of Finance programs. In fact, MIT has already sent some of their graduates to major companies like Bank of America and J.P. Morgan Chase. Ohio State University also offers a great Master of Finance program.
Reservations & Placements
1) The Finance professors teaching MMS will be the one's teaching for the Msc(Finance) course Additionally there will be more no of Corporate lectures aligned for this course 2) The students will have to undergo internship for 2 months after the 1st year . Regarding Internship/Placements she said like for MMS,there will be a student team formed for this course that will take care of placement processes . 3) There is Reservation applicable for this course. According to her 15 seats will be available for General Category students.No biforcation available for other categories. 4) Forms will be available at JBIMS till 9th July and the last date for acceptance of forms is 13th July,2013. 5) Results will be published within 8 days from the GD/PI and the college will be starting from Aug 1, 2013.Timings of the course would be from 8 am to 8 pm including corporate lectures.
Written test jbims msc finance syllabus
Verbal ability
Quantitative aptitude
Logical Reasoning
Visual reasoning
Reading comprehension
General Knowledge
Data interpretation.
India's first MSc Finance
In a first-of-its-kind course in the country, the University of Mumbai launched the Master of Science (MSc) in Finance on Monday. The course, which is the brainchild of Prime Minister Manmohan Singh, will be offered at the Jamnalal Bajaj Institute of Management Studies (JBIMS), Churchgate from this academic year itself. According to University officials present at the launch, the course will be of international standards as the course content and curriculum has been designed after taking references from the syllabus of London School of Economics, University of Florida and a few other institutes in France. The idea, originally mooted by the PM in 2011, is a part of the University Grants Commission (UGC) and Central government initiative to make Mumbai an international finance centre. The University had first received a proposal letter from the UGC in September 2011, which was placed and approved by the academic council thereafter. Identifying the institute to carry out the market survey, research and finally conduct the course, however, took some time. "Faculty members of JBIMS and industry experts conducted a market survey and designed the curriculum. The course will initially be offered only at JBIMS and student intake will be limited to 30 candidates who will be enrolled after an entrance test," said an MU spokesperson. "We are aiming at producing finance professionals having internationally benchmarked skills and capabilities in financial risk management, asset management, banking and non-banking financial institutions management and financial regulations etc," said Dr Naresh Chandra, pro vice-chancellor of MU. Kavita Laghate, in-charge director of JBIMS said, "The course has been designed considering the market needs. Hence, we are receiving huge finance industry participation in conducting the course."
Mumbai University MSc
Mumbai University (MU) is set to introduce MSc in Finance, a course it claims will be the first of its kind in the country. The course will be officially launched Monday at Jamnalal Bajaj Institute of Management Studies (JBIMS), Churchgate. The decision is part of the UGC and central government initiative to make Mumbai an international finance centre. "Several institutes in the UK and US offer the course. It will be a Master's degree and will be designed to prepare graduates for careers in financial analysis, investment management and corporate finance. The course will initially be offered only at JBIMS," said a senior MU official. "The course is called Master in Finance (M.Fin) or Master of Science in Finance (MSc in Finance). More details will be announced Monday," said the official. jbims msc finance cut off jbims msc finance summer placements jbims msc finance Cetking jbims msc finance placements jbims msc finance entrance exam jbims msc finance syllabus jbims msc finance admission 2014 jbims msc finance fees